Parks & Gardens
Delhi's Eye in the Sky
The first and original Ferris Wheel was designed and built in Chicago by George Washington Gale Ferris Jr. Since then, it has become a must-have for most parks and fairs. And over time it has gone under further development with the Wheel getting bigger and bigger. Currently, the High Roller, located in Las Vegas is the tallest Ferris wheel (550ft).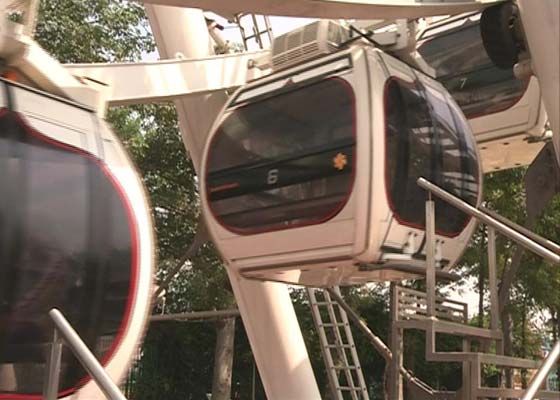 These wheels are used to give the riders, who are the cabins, an aerial view of the surrounding area. Therefore, the higher the better. In the past decade, the trend for setting up ginormous Ferris wheels for tourism has been slowly catching on. The first one having been set up in Paris during the Y2K celebration. And now, even Delhi is in view.
Enter Delhi Eye. The city's own transportable Ferris wheel. Set up in Kalinda Kunj Park, in Okhla, it has 36 air conditioned cabins, which carry up to six passengers each. The cabin reaches a maximum height of 200 feet, where from you get near 360-degree view of the city. On a clear day, you can see the Akshardham Temple, Humayun's Tomb, Lotus Temple, Qutub Minar and the Red Fort. And if you're done seeing Delhi from high above, the park in which the wheel is situated also has other amusement rides. Two birds, One stone or as they say in India, Ek Goli Se Do Nishaan.
Ticket Price: rs.250 per person (for the Ferris wheel)
Operating Hours: 11am – 8pm (ticket counter closes at 7pm)
Address: Kalindi Kunj Park, Okhla, New Delhi-110025
Contact: ( +91)-11-64659291
Latest Listings
---
Polls team and nascar NBA league has added four
Following a review of all Coca-Cola North America ...
readiness started to get hurt Mark Barberio Authentic Jersey
He sat in Portland, flourished in Indiana, and suf...
Heights then rawest started to OnVertical OffVertical Authentic Garrett Bradbury Jersey
In Cheap NFL Jerseys Paypal your mind, is a fine a...