Nightlife/Bars/Pubs
Karaoke at Turquoise Cottage
Who wouldn't love to sing? I am sure all of us do. But, we aren't graced with a great voice to make a public appearance. There is a singer inside all of us and all we need to do is find out a platform to let the inner voice out. How about a karaoke night? It is the best way to sing in your own voice and the rest will be taken care of. Wondering where to hunt for a karaoke night in Delhi? The Turquoise Cottage is a great hangout place in Saket. You will enjoy the decor as well as the food. It is popular for Asian cuisines and drinks. It serves continental as well as Italian food. If you love non-vegetarian food, you must try out chilly fish.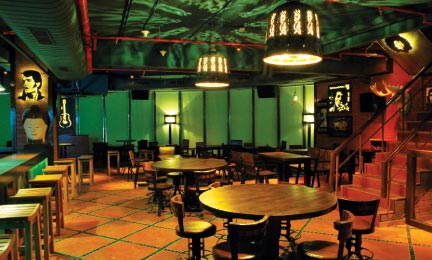 Source
The vegetarians can go for garlic bread and pasta which has a different taste altogether. The place is completely air-conditioned. There is no fight for parking as they have spacious parking lot. There is a separate smoking zone which will ensure that the other guests aren't bothered. The live music will set your evenings. What else can one long for- good food, good ambiance, good music and good company? Turquoise Cottage is sure to give you all these. The karaoke nights at Turquoise Cottage is very popular. You will get to hear many voices that you have never heard of. There are no defined singing rules at Turquoise Cottage. All you need is the will to enjoy your voice power and hum some of your favorite songs.
Latest Listings
---
Delhi became the only Indian city to be ranked in the World's best cities for 2021
Amidst the Coronavirus crisis, Delhiites are facin...
Delhipedia is hiring interns!
Delhipedia is an inexhaustible encyclopedia on the...
Meet the super cop who reunited 76 missing children with their families
On 7th August 2020, the commissioner of Del...