Event
And She Decided Not to Give Up
Women are always saying,'We can do anything that men can do' but men should be saying, we can do anything that women can do.''
Markitiers in the association with Events mosaic and DelhiPedia presents before you "And she decided not to give up", an event designed to celebrate the contribution made by women in the Indian societyand empower them through making them realize their own capabilities and powers. There is no limit to what a woman can achieve. Women create an aura which can even glorify a dull object. This women's day will be dedicated to end all the taboos and stigmas which exist in our society and prevent her from expressing herself and living freely. Our main moto is Encouraging corporate leadership capacity with the quality to ascertain gender equality. The event is to be hosted on 23rd March,2018 at the Hansraj College,University of Delhi with a footfall of more than 5000 students.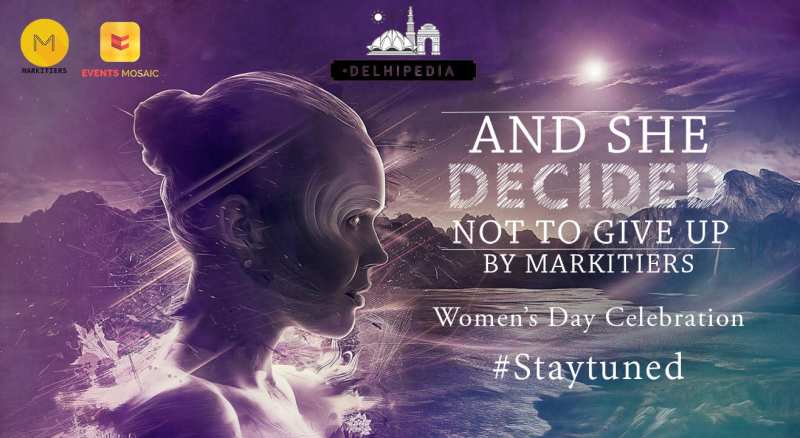 With an aim of abolishing all the mental and social barriers which prevent a girl from pursuing all her dreams.This Event will help them to channelize their energies in the most appropriate manner and make them realize what they are capable of doing. This will help them in self-introspection and help them to bring out the best within them and develop a Society which appreciates a woman for being a woman. Women are born leaders and have got the ability to guide everyone to the path of success. Everyone must know that A women can deserve the better according to her capabilities.
Event Structure-And She decided not to give up
1.Opening ceremony – Lighting of the lamp by the guest of honour and planning of tulsi.
2.Envisage- Picture interpretation competition.
3.Every soul is beautiful- A workshop designed to abolish all the mirage-like images formed in our mind related to our body type, shape and colour. This session will focus on helping girls realize that the clichés and the invisible lines which they have created in their mind act as a hindrance in the path of their personal growth. We should be extremely proud of being a
female and love ourselves.
4.Band Performances- Female bands will be performing live and will display the power of a woman through lyrics of freedom and liberty.
5.Express what you feel (Your Body. Your Rights.)- It is an activity wherein all the attendees would be provided with an opportunity to express what they feel. You can write quotes, recite poems, share experiences, portray something through a drawing and express what it feels like
being a woman.
6.Menstruation is a blessing- Yes, I am a girl and bleeding is as normal as breathing. This session will focus on menstrual health and the taboos associated with menstruation. Without it being a natural process, the world would have come to an end by now.
7.A debating session on the topic, 'And the midwife exclaimed It's a girl! Anyone who has a got a strong opinion about the same and looking for a platform to convey them, then you have arrived at the right place.
8.Documentary Screening and discussions- Projecting the women who had made their own statement in the society and are a source of inspiration for all the other women. Various discussions will be initiated about the role played by them and how they were able to bring a
change in the society. This will be followed by presenting videos of some inspiring women.
9.Promoting Women entrepreneurship- Presentations by a women-led start-up. Women have got all the managerial talent and can run a business on their own.
10.Activities to ensure healthy interaction among the attendees.
11.Burst the bubble- Write what you had long buried deep inside your heart and get rid of the burden of carrying it. We will be providing you with a balloon on which you can write what you feel or anything which you would like to bring to an end. At the end of the event, all the balloons with such messages will be busted to mark the beginning of a new phase in your life where you had left back all the negativity of your life.
12.Introduction about the book, 'And she decided not to give up'. ''Our greatest glory is not in never falling, but in rising every time we fall.'' The Story is based on how a girl who suffered a log was still able to achieve all her dreams through her strong will power and dedication.
Key Attraction Team Markitiers is extremely glad to host you at And she decided not to give up.Together let's break all stereotype, empower women and make this event a great success..
Latest Listings
---
$95 million $79 million $25 million soccer
Analysis Deni Avdija looks the part for what the N...
Bowl Games Super Bowl Raymond
Elina Sviolina tennis $6M 8. Louis with a Bud in h...
Tiger Woods $62 million million
Big left arrow icon Big right arrow icon Close ico...