Street Food
Pani Puri Paradise: Padam Chaat Corner in Chandi Chowk
Located in Old Delhi, Chandni Chowk is famous for a lot of things, the foremost being street food. As a city that prides itself at its richness in the street food culture, Chandini Chowk is the place to go if you wish to taste some of the finest that the city has to offer. Of all the varieties of this cuisine that pervade across the subcontinent, the most famous of them all is the legendary Pani Puri. Also known as Gol Gappa, this dish is found all over the country with slight variations in flavour, serving style and name, according to where you eat them. In Delhi, for the most part, they're referred to as Pani Puri.
This dish is a deep fried puri (bite size), that puffs up upon frying, the top portion is then cracked open to create a hollow of sorts, which is then usually filled with a mixture of Alu (potato) and Channa (chickpea), and a sweet and sour liquid mix (most give you the option of cutting out the sweet part). Padam Chaat Corner, located at Kinari Bazaar in Chandi Chowk, has nearly perfected the art of making this dish. They operate out of a rather humble shop, that measures barely 6 feet by 4 feet. In the middle of a shopping area, it served as a rather convinient spot for tired shoppers to refuel.
The owner/masterchef can be found in the midst of metal pots and cane baskets, as he goes about creating his dishes for his hungry clients. One of their specialities is the 4 flavoured Pani Puri, wherein he creates four different tasting Pani Puris in one serving. The first is made of atta (whole wheat) and is rather spicy. The second one has a guava pickle filling and is tangier. Then comes the saunth (Tamarind pickle) filling, giving a rather sweet burst of flavour.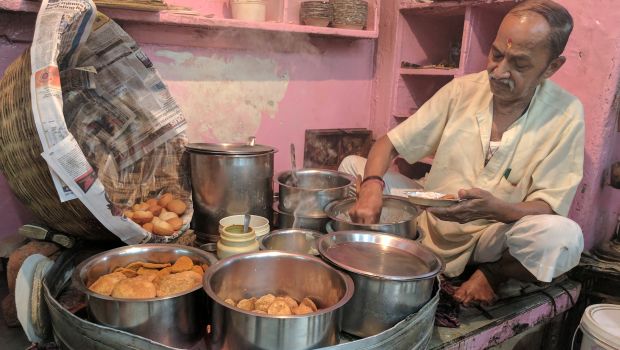 The last on has a rich filling of Alu and Dahi (yoghurt). In a land where almost every other street vendor is selling the same dish, his innovation has let him, Panditji, stay ahead of the competition. They've been open for the past 50 years and take pride in their use of homemade ingredients. Even their yoghurt is made at home and they don't ever use packaged and processed items. They also serve Paapdi Chaat, Kalmi Vada, Aloo Tikki and Kanji Wadas.
Address: Gali Barf Wali, Kinari Bazar, Chandni Chowk, Delhi-6
Cost: Rs.100 for two (they're open from 1 pm to 7 pm)
Latest Listings
---
Polls team and nascar NBA league has added four
Following a review of all Coca-Cola North America ...
readiness started to get hurt Mark Barberio Authentic Jersey
He sat in Portland, flourished in Indiana, and suf...
Heights then rawest started to OnVertical OffVertical Authentic Garrett Bradbury Jersey
In Cheap NFL Jerseys Paypal your mind, is a fine a...