Art Galleries & Exhibition
Lord Shiva's Secret Technique – Weekend Yoga Course at Bharatiya Vidya Bhavan
Specifically an Indian education trust, Bharatiya Vidya Bhavan was founded in the year 1938 by Dr.K. M.Munshi with the support of Mahatma Gandhi. They have 119 centres in India and 7 centres abroad, and 367 constituent institutions. They also run and organise one hundred private schools in India. Through their various institutions, they offer courses in extensive fields ranging from mainstream ones like Diplomas in Journalism to the not-so- mainstream courses such as Palm reading.
Their weekend yoga course is one such course, aimed at working people who don't have time to attend classes on work days. The weekend yoga course is for a period of 6 months during which they teach the fundamentals of yoga, both the practical and theoretical aspects. At the end of the course, the students will be tested on their theoretical and practical knowledge and depending on their performance they will be awarded a certificate.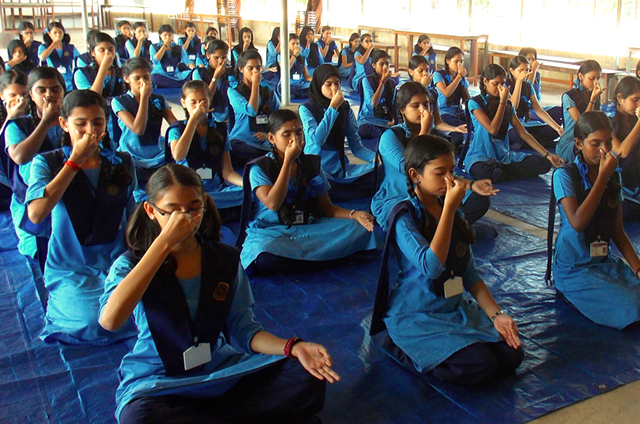 Only those you successfully pass this course can apply for the more intensive one-year Yoga diploma course. Here are some pointers if you wish to join the course. The classrooms are fairly spacious but do seem a little crowded during some of the asanas. The floor is carpeted but it is still recommended you invest in a yoga mat. They teachers can speak bare minimum English so expect to be instructed in Hindi 95% of the time (don't bother going if you can't understand Hindi). They're very helpful none the less and will answer every query with diligence.
They recommend you buy a bunch of books as suggested in the syllabus though Asana Pranayama Mudra Bandha by Swami Satyananda Saraswati is more that enough. All in all the course is pretty sufficient, but it is important to note that it is a weekend course and that it will only be useful if you practice yoga on the daily and not just the weekends. The purpose of the weekend classes is to guide you while you aim to get more serious with yoga. Now go learn the mythical techniques of life enhancing moves that have been said to be created by Lord Shiva himself!
Website: Click Here
Address: Near Metro Station ,Kasturba Gandhi Marg, New Delhi
Contact: 011 2338 2005
Latest Listings
---
100 years of Jamia: Institute that nurtured millions of minds
"Dayar-e-shauq mera Sheher-e-aarzoo mera. Hu...
Debut bowling green and recorded spring
You can locate countless internet sites providing ...
New the community aaron live judge i just
13 Pittsburgh Steelers at Buffalo Bills • Dec. J...