Adventurous Spots
Tughlakabad Fort
Once on the southern edge of Delhi, was a small hillock, Ghazi Malik a vassal of the Khalji king of the time, asked the king to build a fort, the king told him to do it himself, and in 1321 thats what he did, he drove away the Khalji's, took the title of Ghiyas-ud-din Tughlaq and started the Tughlaq dynasty, his first order of business, was to start building his fabled city, a city that would keep the Mongol armies away from the third city of Delhi, yet it was a dream that was short lived, and the city was abandoned in 1327.
Overall a benevolent king, yet, in pursuit of his dream fort Ghiyas-ud-Din-Tughlaq issued an order that all labourers in Delhi must work on his fort, this meant that the work of a Baoli, a well, of Saint Nizamuddin Auliya, famed Sufi saint and mystic, stopped.
The confrontation between the Sufi saint and the royal emperor has become a legend, the saint cursed the fort, "Ya rahey ujjar, ya basey gujjar","either remain inhabited or here would live the Gujjars", after the fall of sultanate, Gujjars of the area captured the Qila and till date the village of Tughlakabad occupies the space.
Another of the saint's curses was Hunuz Dilli dur ast (Delhi is still far away), spelt the end of the Emperor who on his way back from a campaign in Bengal was crushed to death in 1324 by a Shamiana or a Tent erected to welcome him back.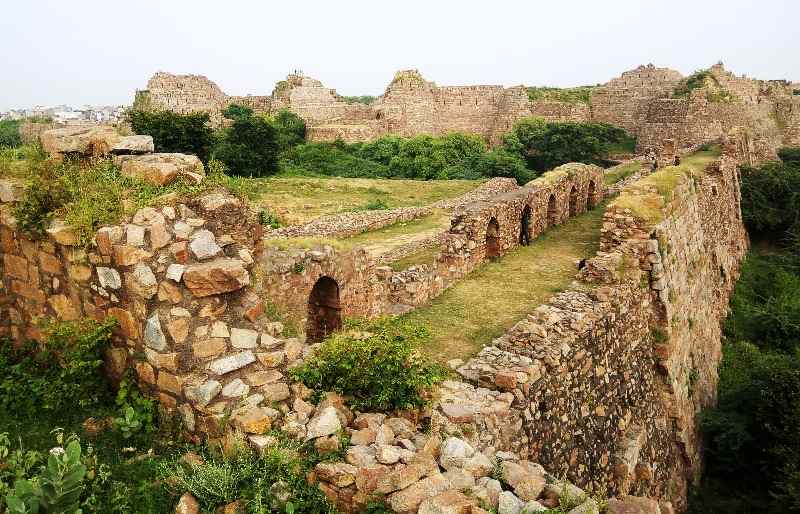 The fort contains the 'Mausoleum of Ghiyath al-Din Tughluq', made up of a single-domed square tomb about 8 meters by 8 meters with sloping walls and a crowned by parapet. The sides of the mausoleum are faced by smooth red sandstone and inlaid with inscribed panels and arch borders from marble, a contrast to the walls of the fortification made up of granite,
The city is supposed to once have had as many as 52 gates of which only 13 remain today,Today most of the city is inaccessible due to dense vegetation and an ever increasing part of the former city area is occupied by modern settlements Nearest metro station to Tughlaqabad fort: Govindpuri of the violet metro line is 5km away from the fort. From there, take an auto rickshaw for Rs 50 minimum fair.
Tughlaqabad fort Opening days: Opened on all days of the week.
Tughlaqabad fort entry timings: 09:00 AM to 5:00 PM
Tughlaqabad fort entry fee: For Indians entry fee is Rs 5 and for foreigners it is Rs 100.
Latest Listings
---
Seven famous personalities who studied at Modern School Delhi
A young guy in his mid-20s dreamed to change the f...
At dolphins republican convention miami the white house
CS: It doesn't. Lionel Messi $104 million $7...
Golden part of 5 concerted effort by $4B health
The first playoff series in Golden Knights history...