Adventurous Spots
Eyes in the Skies: Hot Air Balloons in Delhi NCR
The first successful flying device to be able to carry a human. That's the hot air balloon for you. Since it's inception it has evolved into to different variations and been used from entertainment to real time wars. But even after all that, the original form, the one that we've all come to fantasize and love is still the most commonly used one. Here are a few places, in and around Delhi, to go on a romantic flight with or just to enjoy the view of India, from the point of view of the Gods.
1.Sky Waltz: Balloon Safari
To get a bird's eye view of the "Pink City", this would be just perfect. As you fly high above the city of Jaipur, all the forts hidden in the Aravali range come into plain sight.
(Contact: +919560387222 (
Website: Click Here
(Price: Rs.12,000 per person
2.National Adventure Foundation
An NGO, this establishment was founded with the intent to promote adventure sports amongst the youth of India, with special emphasis on the underprivileged class. Besides hot air balloon rides, they also provide other adventure sports like parasailing, paragliding, bungee jumping, etc. (
Contact: +919166562244 (
Website: Click Here
3.Ballooning Club of India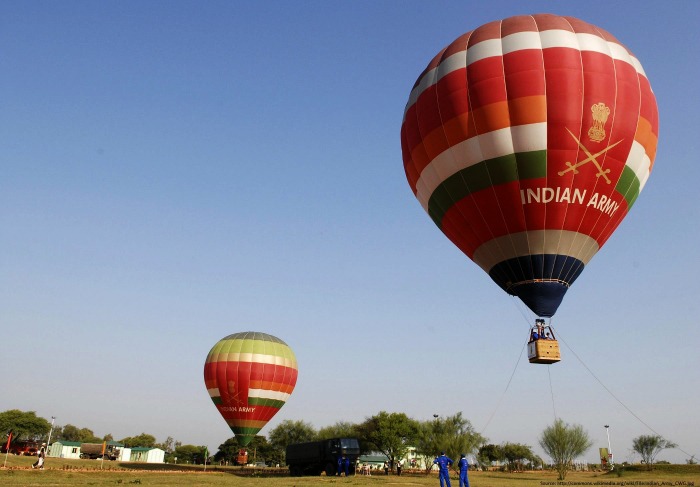 Established in 1970, this company is situated at Safdarjung Airport. They organise events regularly and is quite possibly the best way to get an aerial view of this metropolitan city.
(Address: 8-B Bahadur Shah Zafar Marg, New Delhi, India (
Contact: +91 11 2371 6665 (
Price: rs.1200 for 5 mins
4.Tiger Balloon Safaris
Here's another Hot air balloon in Rajasthan. Approved by the Director General of Civil Aviation, they comply with the top level aviation authority in India and have world class standards.
(Contact: +919999742000
(Website: Click Here
Price: rs.12,000 per person
Latest Listings
---
100 years of Jamia: Institute that nurtured millions of minds
"Dayar-e-shauq mera Sheher-e-aarzoo mera. Hu...
Debut bowling green and recorded spring
You can locate countless internet sites providing ...
New the community aaron live judge i just
13 Pittsburgh Steelers at Buffalo Bills • Dec. J...