Adventurous Spots
Battlefield Paint: Paintball in Delhi NCR
The sport of Paintball is one of the greatest inventions of all time. We've always been fascinated with action movies. Bruce Willis cleans up a skyscraper full of bad guys. Arnold rids the world of alien lifeforms such as Predators. Keanu Reeves avenges his dog's death by slaughtering an entire underworld gang as John Wick. Our very own Sunny Deol defeats the entire Pakistan army single-handedly and survives even after taking enough damage to kill an entire platoon. With Paintball we get to relive a bit of that kind of action but without having to pull a Sean Bean (he's an actor that's known to die in every movie/tv series he stars in. Yes, he's Ned Stark in Game Of Thrones).
Engineered in the 1980s the sport is basically played by two teams, with the default rules having them eliminate each other by shooting paintballs/pellets from special gas-powered guns (usually compressed Carbon Dioxide or Nitrogen). In today's world, games are organised on smalls scale to even international levels with professionals even doing it full time. Interestingly, this game has also been used by the military, police and security forces for training and as well as in suppressing riots and suspects in a non-lethal manner.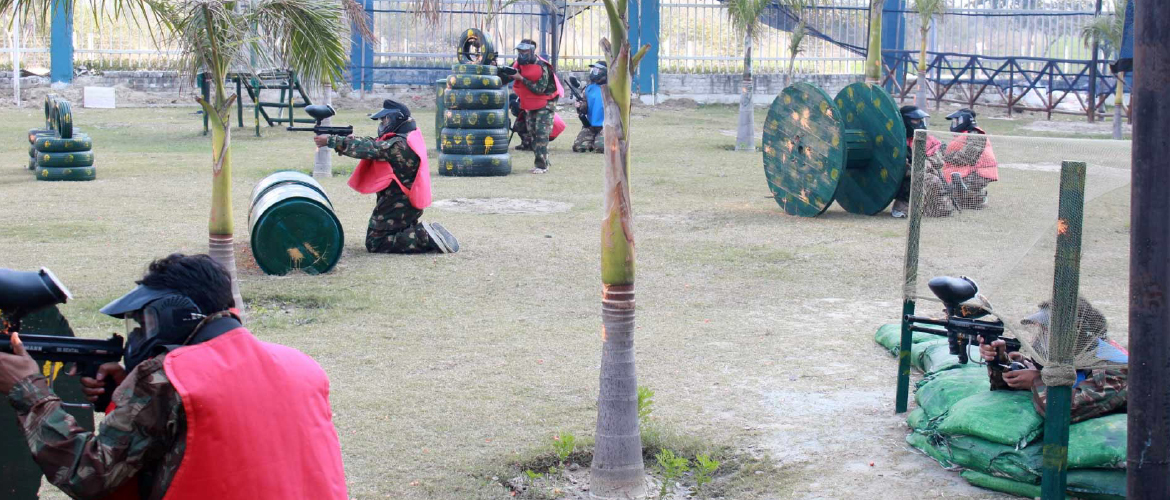 Anyway, enough with the yammering. Here are a few spots in Delhi NCR where you can get a Counter-Strike feel for real (for all those who do not know what Counter Strike is, it's one of the most popular computer games on the planet and most Indian kids play it when they go through school/college phases or even after). Potato.
1.The Paintball Co.
Address: Plot # 53/19, HSIIDC Apartments, Sector 31, Gurgaon
Contact: +91 9971200530
Cost: For prices, check out their website – https://thepaintballco.com
Timings: 10am – 10pm
2.The Paintball Rocks
Address: Inside Game N Grillz restaurant, Near ITM University, Gurgaon
Contact: +91 8800126311
Cost: INR 100 for entry. Starting at INR 250 for 25 shots
Timings: 11 am – 6 pm
3.Lock 'n' Load
Address: Pacific Mall, Subhash Nagar
Contact: +91 9873444019
Cost: Starting at INR 200 for 25 pellets
Timings: 11 am – 9 pm
4.Shootout Zone
Address: A-265, near Chhatarpur Metro station, Andheria Modh
Contact: +91 9811007094
Cost: Starting at INR 500 for 60 shots, and INR 800 for 100 shots
Timings: 10 am – 8 pm
5.Rockshot Paintball Sports
Address: S11/C3, Pandav Nagar Ext, Delhi and Green View Residency, C Block, Chhalera Market, Sector 44, Noida
Contact: +91 9818215877
Cost: Starting from INR 400 for 25 shots
Latest Listings
---
100 years of Jamia: Institute that nurtured millions of minds
"Dayar-e-shauq mera Sheher-e-aarzoo mera. Hu...
Debut bowling green and recorded spring
You can locate countless internet sites providing ...
New the community aaron live judge i just
13 Pittsburgh Steelers at Buffalo Bills • Dec. J...